About Our Firm
For years, Bleske & Associates, Inc. has been providing quality, personalized financial guidance to local individuals and businesses. Our expertise ranges from basic tax management and accounting services to more in-depth services such as tax planning, financial statements, and financial planning. Our services also extend to payroll management and sales tax preparation, making us the perfect investment for all your needs.
Bleske & Associates, Inc. is one of the leading firms in and throughout the area. By combining our expertise, experience and the team mentality of our staff, we assure that every client receives the close analysis and attention they deserve. Our dedication to high standards, well knowledgeable associates, and work ethic is the reason our client base returns year after year.
Our Mission
Our mission is to help clients maintain financial viability in the present, while taking a proactive approach to achieve future goals. This requires open communication to reach an understanding of our clients' needs through research and sound analysis. Bleske & Associates, Inc. is dedicated to meeting these goals with high standards of excellence and professionalism. We have been a staple of the area's business community for years, and pride ourselves on the level of esteem we have earned.
Our dedication to hard work has earned the respect of the business and financial community in and around the area. We believe this to be a direct derivative of our talent and responsiveness to our client base. Whether you are a current or prospective client, rest assured that individuals and businesses who choose Bleske & Associates, Inc. receive competent and timely advice.
Andreas Bleske, EA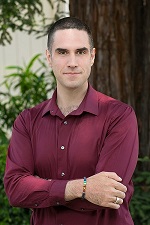 Andreas has earned his Bachelor of Science Degree in Accounting from the University of Phoenix and is a licensed Enrolled Agent, a status of the highest credentials the IRS awards. He is also a member of the National Association of Enrolled Agents and California Society of Enrolled Agents. Andreas started his career working with his father who was an Enrolled Agent for 6 years, preparing taxes, bookkeeping, and payroll as well as sales taxes and other related services. Andreas continued his knowledge and experience of accounting and taxes through a CPA from a small firm who mentored him for 10 years. It was after that mentorship that Andreas felt compelled to start his own firm to provide quality services to businesses and individuals with their taxes, accounting, payroll, and tax planning needs. One of Andreas' foremost strongest belief is to have excellent communication with people.
"Without communication and clarity, there can only be problems."
When Andreas is not working, he enjoys spending time with his family and cats, as well as getting a good workout playing Soccer and going on hikes.

Bleske & Associates, Inc.

3130 Crow Canyon Rd,Ste D

San Ramon

,

CA

94583

Telephone: (925) 867-3201

Fax: (925) 867-3221

Email: info@bleskeinc.com